'The Martian puzzle' can be visited at the science museum in Granada
Parque de las Ciencias de Granada hosts the exhibition 'The Martian Puzzle' from May 18 to August 31 organized and produced by the Andalusian Astrophysics Institute and the UPWARDS Consortium.
 
In literature, music and cinema, in the spatial development and scientific progress, in our imagination… Mars has always created interest and curiosity and even today stands as a challenge for researchers.
 
The Martian puzzle is a trip to Mars told through postcards on the edge between science and imagination.
 
This exhibition provides you with access to groundbreaking information about Martian research and the work of the consortium UPWARDS, a state-of-the-art project which, through the cooperation of groups of excellence, aims to shape a comprehensive image of the red planet and to solve the Martian puzzle.

This exhibition shows open questions about Mars: from how the fabulous dust storms are generated to the possibility of life in the Martian subsoil. You will become an astronaut with the mission to build the first human colony on the planet and you will discover the pieces of this puzzle through the eyes and art of six illustrators. And all of that without leaving Planet Earth.

"In Europe we are doing relevant science on Mars and we wanted to join together the science and the culture through this exhibition to bring our job closer to the citizens in a different way." - Miguel Ángel López Valverde (IAA - CSIC, UPWARDS General Coordinator) .

 
The Martian Puzzle is a micro exhibition made up of the four stages of an impossible trip to Mars.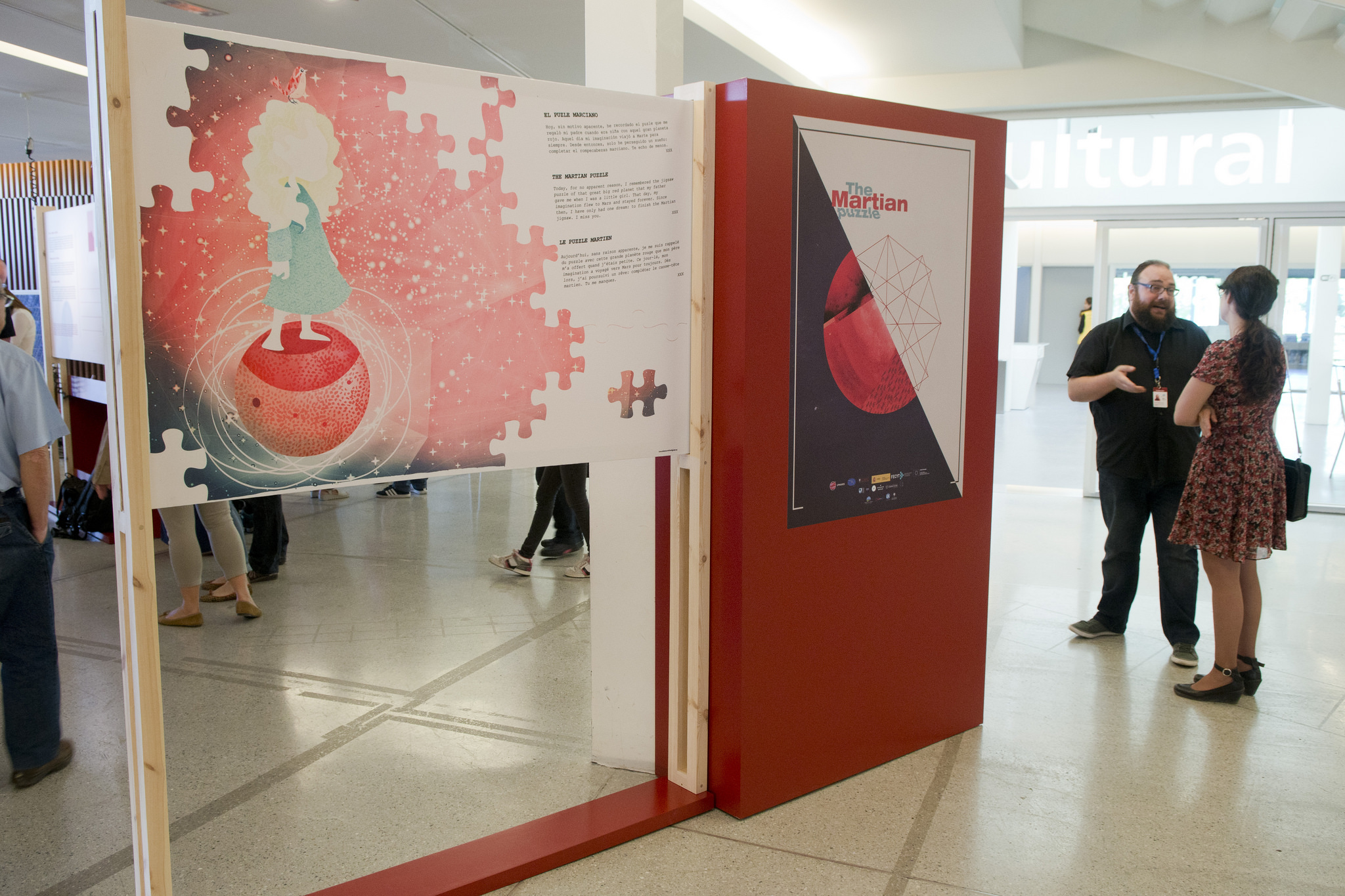 The first step - the preparation - comprises an audiovisual section in which experts in the Martian research explain the open questions about the Red Planet.
 
The second stage - the journey - will turn the visitor into the main character of the video game "Let's go to Mars", a scientific graphic adventure that currently has more than 180 000 downloads.
 
The different visions of five national illustrators on different aspects of Martian research make up the giant pieces of a puzzle yet to be completed.
 
Finally, a strange desk and enigmatic postcards draw several questions in the air: Has this trip been real? Will the man step on Mars? Will the Martian Puzzle be solved someday?
 
More info about the exhibition in Parque de las Ciencias (Spanish)
Credits
Organizers
Instituto de Astrofísica de Andalucía (IAA-CSIC)
Consorcio UPWARDS
Coordinators
Emilio J. García Gómez-Caro (IAA-CSIC)
Ana María Navarro Tamayo (Laniakea Management & Communication)
Scientific management
Miguel Ángel López-Valverde (IAA-CSIC)
Consorcio UPWARDS
Design & Production
Emilio J. García Gómez-Caro (IAA-CSIC)
Ana María Navarro Tamayo (Laniakea Management & Communication)
José Luis Conde (Nexa producciones museográficas)
Audiovisual production
Lypssinc Media Lab
Neu Circuita
Wild Sphere
Illustrations
Carmen Sotoca
Cristina Nogales
Diego Garrido
Eva Lí
Manolo Vaca
Rafael Fuentes
Translation
Sandra Guerrero García
Miguel Quintanilla García
Sara López González
Iria Robles López
Miguel Ángel Oliva Zamora
Alejandro Valenzuela Garrido
Pablo Aguado Góngora
Claudia Caballero Pérez
Ana Isabel Rodríguez Nichol
Alba Siles Díaz
 
Communication
Ana María Navarro Tamayo (Laniakea Management & Communication)
Partnerships
Parque de las Ciencias de Granada
La cité de l'espace de Toulouse
Fundación Española para la Ciencia y la Tecnología
Universidad de Granada – Facultad de Traducción e Interpretación
CONTACT
Andalusian Astrophysics Institute (IAA-CSIC)
UPWARDS - Understanding Planet Mars
Press Contact:
Ana Tamayo - atamayo[arroba]iaa.es - 958 230 515